Bavarian Beer Table – BBT Import Pty Ltd    




GERMAN BEER GARDEN FURNITURE SALE
40 % Discount 
(Promotion ends at 31st October)
Beer Table Set In Best German Brewery Quality
We are offering special prices for retailer and business customer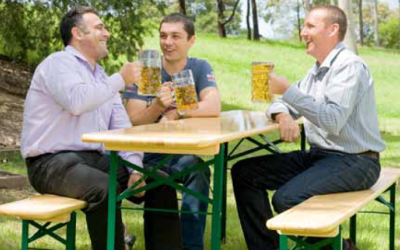 Original Beer Table Set
Only $388.80 – 40 % discount from RRP
In Stock!
Price including GST & excluding delivery cost
available in clear varnish with green and black stands
Table: 2200 mm x 500 mm; Bench: 2200 mm x 250 mm

---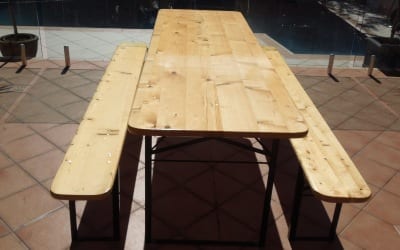 Original Beer Table Set, 700mm width
Only $436.80 – 40 % discount from RRP
In Stock!
Price including GST & excluding delivery cost
available in clear varnish with green and black stands
Table: 2200 mm x 700 mm; Bench: 2200 mm x 250 mm
Select Options
---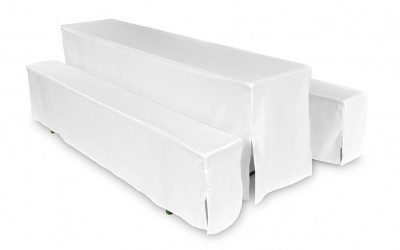 Table Clothes 500mm table width
Only $89.40 – 40 % discount from RRP
In Stock!
price including GST & excluding delivery cost
available in white, creme and bordeaux color

Select Options
---

Looking for a great Gift to make your Dad happy?
Surprise him with an "Original Bavarian Beer Mugs or Steins"
In Stock! 
Bavaria is well know for their great breweries and for their suburb and delicious beer. The Bavarian's are not just drinking the beer, they are celebrating. Therefore they drink the beer from their loved beer mug or stein. We are now offering a selection of high quality  Bavarian Beer Mugs & Steins.

---
10 Reasons why you should own a Bavarian Beer Table Set!
Indoor / outdoor dining set which contains one wooden table and two benches with fold-able legs
Seats up to 10 friends
No assembly required
Portable
Legs fold for easy storage
Solid wood and built to last
Designed for outdoor & indoor use
Multi purpose use
Stylish with table clothes
High Quality
Manufactured in Germany / Europe
---
Bavarian Beer Garden & Bavarian Beer Table – History and Definition
Had been developed in Germany in the 1800's when the beer garden tradition appears to have emerged in Bavaria. Beer garden usually includes trees and may have shrubs and other plants, along with seating such as benches and tables, called beer table or beer garden furniture. As temperatures begin to rise at springtime hundreds of beer table sets have been folded up at the beer gardens within a couple of hours to provide seating's for their guests. During the cold and wet season the beer table sets have been easily folded and stored.
We provide only best quality and long lasting beer table sets in
"German

Brewery Quality"
Your satisfaction is our aim