Beer Garden in Munich with Beer Garden Furniture
BAVARIAN BEER GARDEN / BISTRO FURNITURE
Are you looking for high quality beer garden furniture which are the perfect solution for outdoor and indoor dining, whether in your beer garden, in your restaurant, your pub, your street cafe or at your home?
These foldable furniture made of proven, solid ash wood fit anywhere; whether on your balcony, beer garden or in your backyard. There has never been a more comfortable start into the outdoor season. Our Garden / Bistro Tables and Chairs, manufactured in Bavaria/Germany, are easy to use, have a beautiful appearance and are weatherproof; perfect for any outdoor location regardless of the weather. Our manufacturer only uses the best materials and guarantees a professional workmanship. The beer garden furniture are build to last and provide a long-term satisfaction to you and your guests.
BBT-Import's garden / bistro furniture are planked with high quality solid ash wood and glazed in nut brown colour. German imported beer garden furniture have a very long shelf life because it is provided with a double outdoor glaze structure. These garden / bistro furniture are ideal for any outdoor area due to their hot-dip galvanised steel frames. The easy-to-use folding function of our bistro furniture makes it easy to transport and to store them. It goes without saying that the well thought construction stands securely on practically any surface and their robustness is legendary.
We are a very experienced importer of high-quality restaurant furniture because we only supply outdoor furniture from Germany, "Made in Germany", to our customers and we accompany you from the consultation to the delivery.
After delivery, the garden furniture are easy to use, because there is no assembly required! Open up, sit down, have fun and enjoy.

folded Beer Garden Furniture
10 REASONS WHY BBT-IMPORT SHOULD BE YOUR FIRST CHOICE TO SUPPLY HIGH QUALITY GARDEN / BISTRO FURNITURE FOR YOUR OUTDOOR AREA!
Impregnated ash wood (hard wood) from European ash trees
Solid and hot-dipped galvanised steel frames
Careful priming and the best surface sealing of the slats with high quality protective lacquer
Two coats of weatherproof varnish with UV nano blocker
All chairs and tables are equipped with sound-absorbing plastic floor protectors
Foldable tables and chairs, no assembly required
These garden / bistro furniture are sturdy, resilient, weatherproof
Our garden / bistro furniture promises a special longevity and stability thanks to its tested quality
"Made in Germany" and manufactured based on German Brewery Quality
BBT-Import only import the beer garden furniture from German verified manufacturer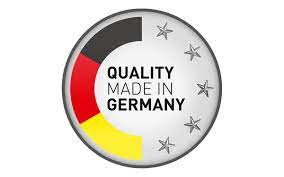 BAVARIAN GARDEN / BISTRO FURNITURE PORTFOLIO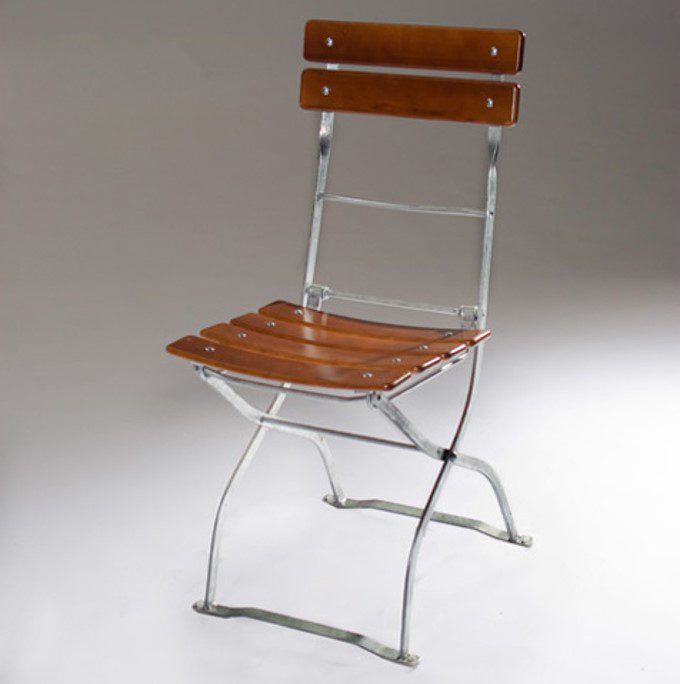 Bavarian Garden / Bistro Chair
Foldable Chair, no assembly required
4 curved seat strips and 2 curved backrest strips
Nut brown with silver (hot-dipped galvanized) steel frames
Wood is solid ash and impregnated, nut brown with food-safe thick-layer glaze, glazed twice
Solid built 6mm flat steel frames, hot-dip galvanized
Seat width: 400 mm; Seat depth: 490 mm
Seat height: 480 mm Backrest height 880 mm
Floor-protecting and sound-absorbing plastic glides on the bottom of the frame
RRP = $439.00 (incl GST)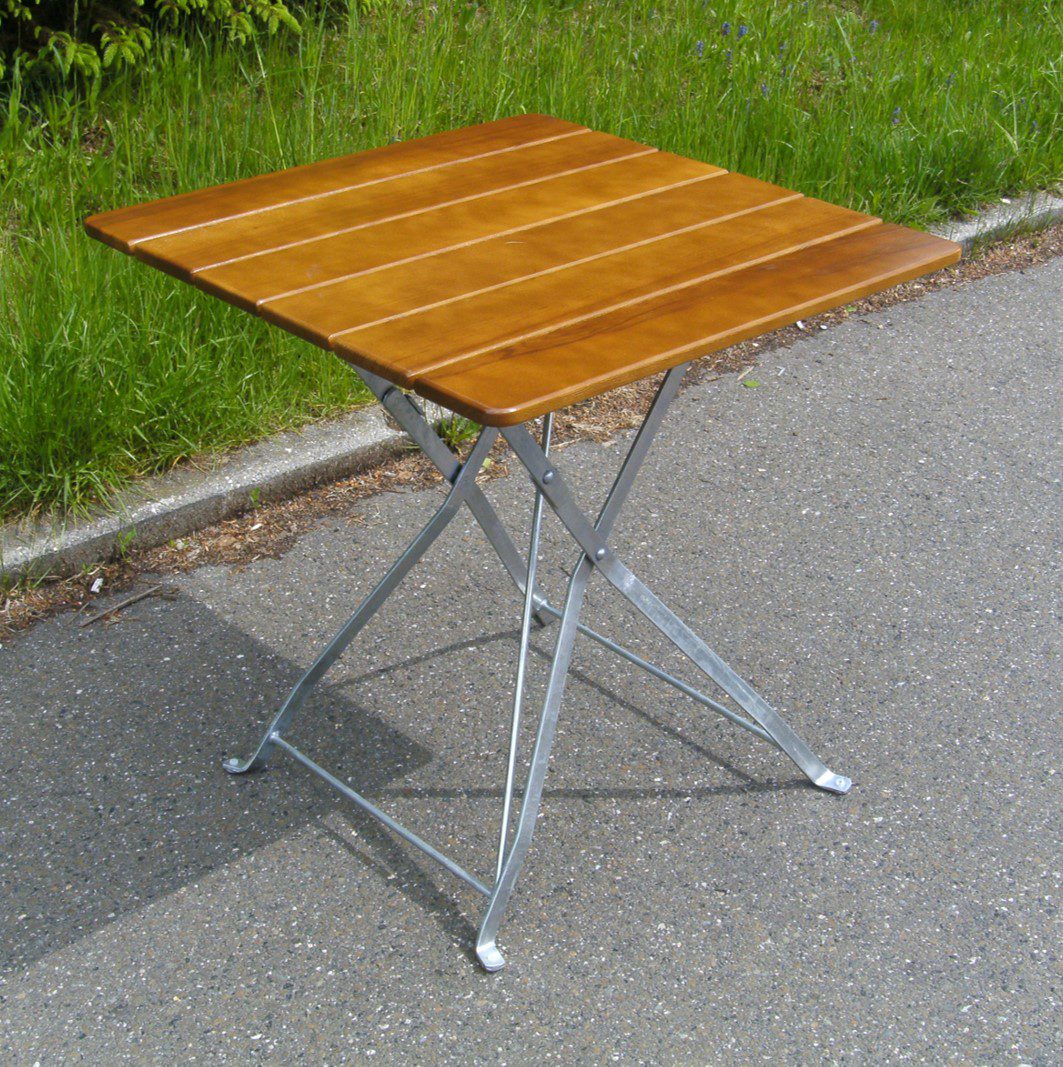 Bavarian Garden / Bistro Table Square
Foldable Table, no assembly required
6 ash wood table strips
Wood is solid ash and impregnated, nut-brown with food-safe thick-layer glaze, glazed twice
Solid built 6mm flat steel frames, hot-dip galvanized
Table width: 700 mm;
Table length: 700 mm
Table height: 740 mm
Floor-protecting and sound-absorbing plastic glides on the bottom of the frames
RRP = $689.00 (incl GST)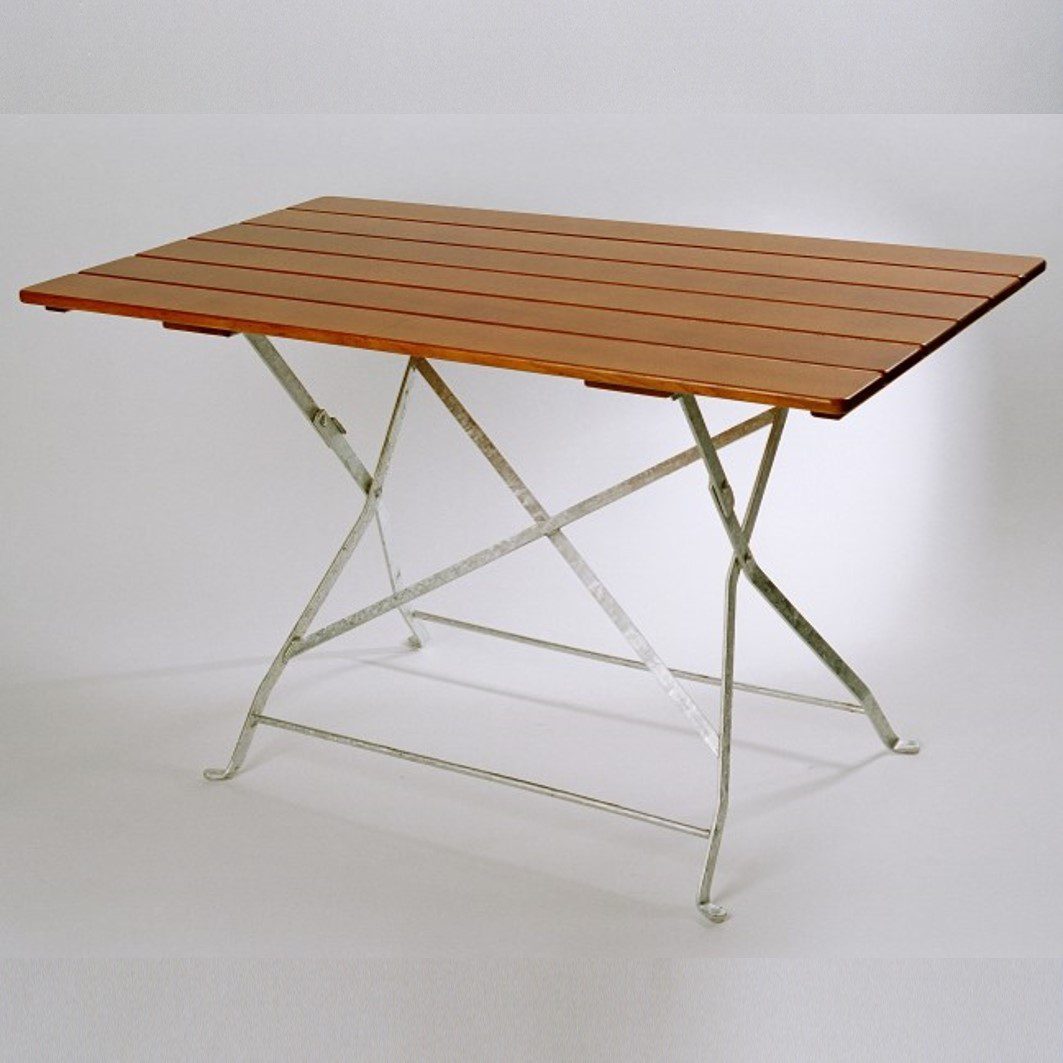 Bavarian Garden / Bistro Table – Rectangular
Foldable Table, no assembly required
6 ash wood table strips
Wood is solid ash and impregnated, nut-brown with food-safe thick-layer glaze, glazed twice
Solid built 6mm flat steel frames, hot-dip galvanized
Table width: 700 mm;
Table length: 1200 mm
Table height: 740 mm
Floor-protecting and sound-absorbing plastic glides on the bottom of the frames
RRP = $798.00 (incl GST)