DELIVERY SERVICES, QUICK QUOTE CART INSTRUCTIONS
Business to Business Delivery
BBT-Import is offering B2B delivery to any destination in Australia only for business customers
Please ask for a delivery price if you would like to order more than 2x beer table sets / beer garden furniture sets.
In case there is no forklift on site, no loading dock or 2 people available to unload the skids from the truck, "Tailgate Delivery" need to be booked for a price of $120.00 plus GST.
Residential Home Delivery
The furniture sets will be delivered to your home address with tailgate trucks. Most expensive delivery option.
New! Depot Delivery and Pickup
We are now offering Delivery to Big Post Depot's and Depot Pickup across Australia for a far lower price than Residential Home Delivery. Check Out your nearest Depot for Depot Delivery and Pickup
Free Local Pickup at our Warehouse in Mona Vale
BBT-Import is offering for all customers local pickup for no cost at our warehouse in Mona Vale.
Please contact us before you placing the order at the webshop.
Local Pickup Location:
Advanced Warehousing + Distribution
1/83 Bassett Street
Mona Vale, NSW, 2103
CART QUICK QUOTE INSTRUCTIONS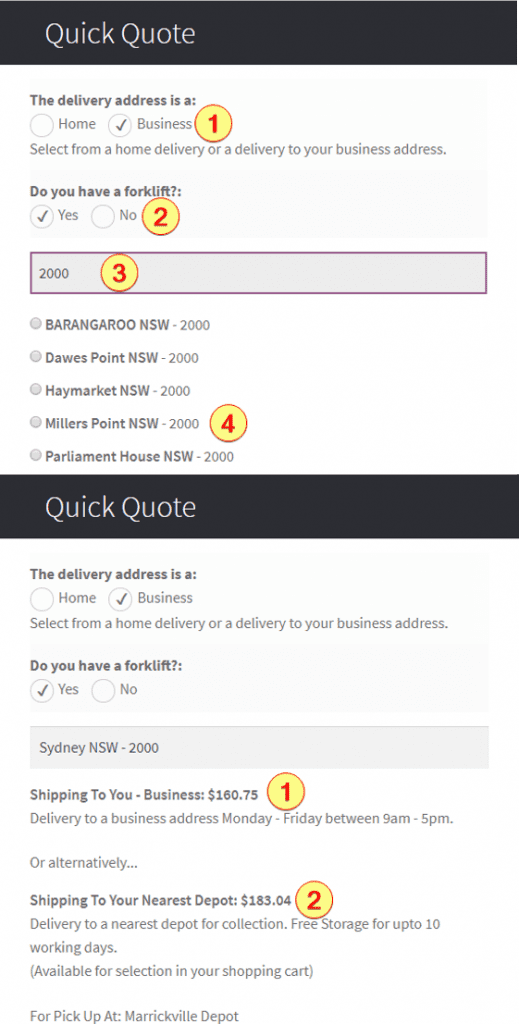 CART: QUICK SHIPPING QUOTE
Clicking on Quick Shipping Quote presents you with a Quick Quote box so you can choose a delivery either to your Home or your Business address.
By selecting a Business Delivery you will be asked if there is a forklift available for skid unload. Please select YES when there is a forklift or loading dock at the delivery address or if there are 2 people available for hand unload. Please be aware, that driver won't assist with a hand unload. If you select NO you will receive a tailgate business delivery.
By selecting a Home Delivery you receive a tailgate home delivery. To be eligible for a tailgate delivery you should enter your postcode and agree to three numbered statements shown on the Quick Quote by selecting YES. If you select NO only depot delivery and pickup is available.
Once you select the suburb you will be presented with a quote for a standard business-to-business or a home delivery.
Depot collection is also presented to give especially customers with home delivery a cheaper delivery choice. You will be advised that this can be selected when you add the item to your shopping cart. The location of the depot is also presented.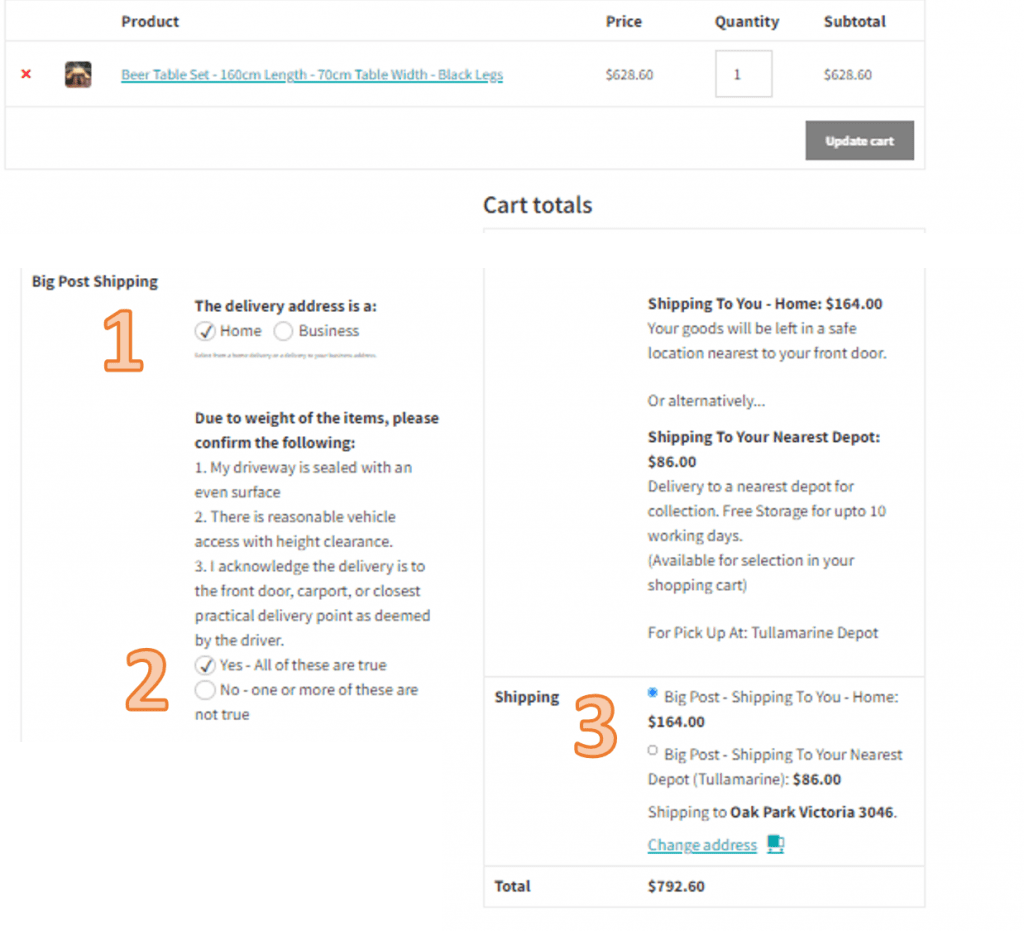 Delivery Time and Destination
Delivery and Depot Pickup is between 09:00 am to 04.00 pm during Business Days. The Delivery lead time is based on the destination. BBT-Import and its carriers are unable to provide an exact delivery day and time. The carriers are instructed to call you prior to the delivery.
Metropolitan Areas (Sydney, Brisbane, Melbourne): Estimated delivery time is 1 – 5 working days
Deliveries within Australia: Estimated delivery time is 5 -15 working days depending on location
BBT-Import Pty Ltd reserves the right to alter delivery fees without notice.
Acceptance of delivery
Our delivery teams will not leave your order at the specified delivery address unless someone has accepted and signed for delivery. BBT-Import will not accept responsibility for the security of a package left under special instructions. Deliveries must be signed for upon request. Anyone at the delivery address who receives the products need to be authorized by BBT-Import to receive the products. Please inform us, if you won't be available at the delivery address during the delivery hours. In case you have not been available during delivery, you need to contact the carrier directly to make alternative delivery arrangements.
Customer Service Help
If you require clarification or have any questions please contact us:
07 5573 4774
customerservice@beertable.com.au
or "CONTACT" tab